Handmade Queen Size Palm Headboard
Gives Tropical Vibes to your bedroom.  Feel like your are in your perfect get away by having this headboard beautifully handcrafted in Bali Indonesia 
Dimensions are 
Queen Size 60"  W by 60" H   

King Size 79" W by 62" H  
Thank you for supporting sustainable!
 Handmade Queen Size Palm Headboard
Gives Tropical Vibes to your bedroom.  Feel like your are in your perfect get away by having this headboard beautifully handcrafted in Bali Indonesia 
Dimensions are 
Queen Size 60"  W by 60" H   

King Size 79" W by 62" H  
Thank you for supporting sustainable!
Thank you to support
Sustainable
Hancrafted In our workshop in Indonesia using best quality materials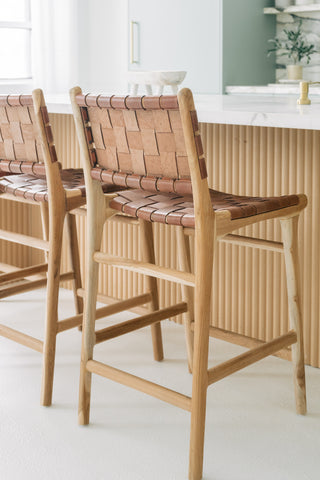 Eddie Bar Stools
Our Best Sellers Eddie Counter Stools In Stock on sale 50 % OFF - LAST UNITS AVAILABLE
Our Best Chairs Now on sale up to 50 % Off
Check our selection of Modern Chairs.